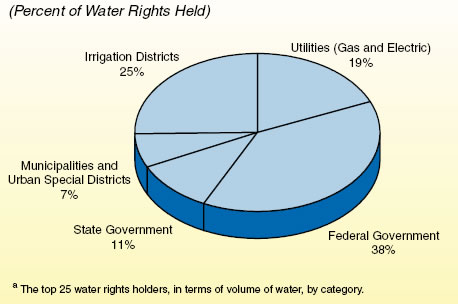 The Legislative Analyst's Office has released
California's Water: An LAO Primer
, and it is well worth reading.
I learned a number of things:
Nine State and eight Federal agencies regulate water supply & quality and flood control. (Yikes!)
These agencies regulate water based on different definitions of geographical areas. (Yikes!)
Californians get 30 percent of their water from the ground (40 percent in dry years), but we don't know how much groundwater there is and how much is being taken out. (Yikes!)
The Feds control 38% of water rights; see figure above. (Yikes!)
Crop water use depends on location and varies by a lot; see figure below.
State Water Project labor and equipment costs have risen by 77 percent since 1996; energy costs have risen by over 100 percent.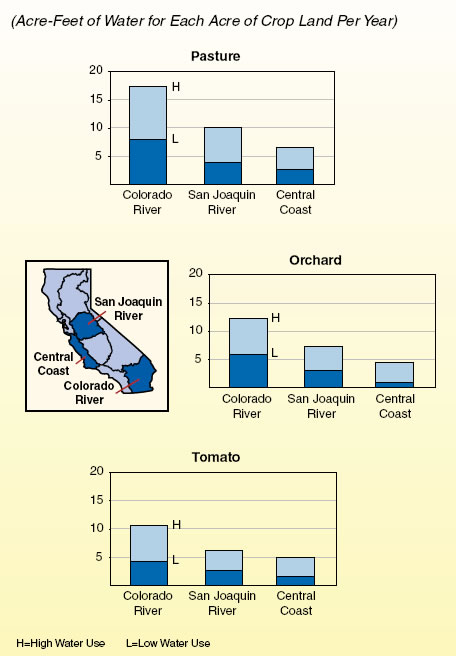 The most-controversial parts of the report call for "Fundamental Changes":
"Reasonable Use" Requirement Should Better Reflect Scarcity of Resources

, i.e., "use it or lose it" encourages waste.

Water Rights Realignment Necessary

, which appears to say that water rights should only extend to the amount required with the best technology, e.g., drip irrigation.

Recommend State Groundwater Rights and Quality Permitting

, which calls for the collection of currently-unknown data.
I agree with the first and third changes but not the second. Deciding how much use is "efficient" is an engineering and bureaucratic nightmare. It seems far simpler to me to redefine "beneficial use" to include trade and then allow water rights holders to trade those rights (short or long-term). It will be necessary to know groundwater rights and withdrawal before such trades can occur, of course.
These recommendations
upset farmers
, who prefer to manage "their water" in the dark, without anyone seeing what's going on. While I understand their strategic desire to maintain power over information, I also see that they are risking a worse outcome, i.e., the recall of "the People's Water" due to the
impression
that farmers are wasting it.
Bottom Line:
Read this important report. (It may be all that legislators and staffers read before they make or modify policy.) Then take a look in the mirror, ask "what's best for the people of California yet respectful of users' rights" and implement groundwater monitoring and water markets.
hattips to MU and MC